Services
Full Service Graphics Production
What does full service mean to our customers? It means we strive to provide excellent service and quality and value in the areas of design, production, and installation.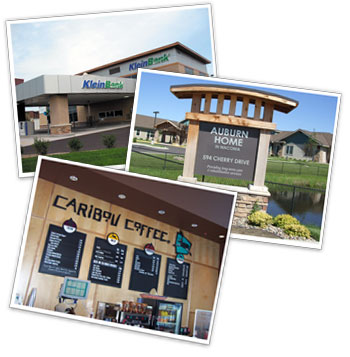 From start to finish, we will take care of your project in a professional, creative and timely manner.
Design
Our top notch, educated, experienced design team is ready to create the perfect item to acheive your goals. If you already have your own design, you may send it to us via the File Uploads" link.

Production
Our skilled production team is ready to make your ideas a reality. Visit our processes page to see all the methods we use to create the perfect item - CUSTOM - just for you!

Installation
Producting high quality signs and graphics is one thing, installing them is another! That's why we'll gladly do it for you. Our seasoned installers know just what to do in any situation, and they have the necessary skills and tools to do the job right. Just wait until you see the results!

Fulfillment
Many of our customers have multiple locations. That's why we gladly offer the service of kitting and destination shipping. Place your order with us and we'll ship it according to your specifications, with appropriate mounting hardware and instructions.
We make it easy for you!
NEW - Social Distancing
We offer acrylic barriers and floor graphics to assist your business with social distancing and providing a safe and healthy environment. We can customize with your logo or text and design of your choice.
Learn more